Long Beach, Calif. (7 April 2017) – Michael Shank Racing with Curb/Agajanian enters Round 3 of the IMSA WeatherTech SportsCar Championship at Long Beach after two successful outings at Daytona and Sebring with the team's new two-car Acura NSX GT3 program. The team, which has several starts at the
Long Beach track in Prototype competition, took its first GTD laps around the 1.968-mile circuit on Friday – making the most of just two practice sessions ahead of qualifying.
The No. 93 Acura NSX GT3 will start the quick 100-minute race from the fourth row after Legge was tabbed to qualify the Acura machine during the 15-minute session. A fast lap time of 1:20.029-seconds was enough to put her eighth on the grid with the top-10 separated by mere tenths.
The result was all the more remarkable after the car sustained damage in an incident during practice
which was held immediately prior to the qualifying session. Lally made slight contact with the wall which was enough to damage a front toe-link. The Michael Shank Racing crew immediately went to work and within 11 minutes had the car ready for qualifying.
"I was pushing the whole way," said Legge. "Since we lost a bit of practice time, we didn't really know what to do tire pressure wise so we pumped them up to try to get them to come in because we had been struggling with that. I think we may have gone a little higher than we should have, but we live and learn. It's a learning process for us. I could have probably put a lap together a little bit better but overall I'm just really proud of the team for hustling to get us back out there in time."
Meanwhile, Ozz Negri set a best lap time of 1:20.242-seconds to put the No. 86 Acura NSX GT3 that he shares with Jeff Segal 12th on the grid as the group continues to dial in the car's setup.
"We made a change for the qualifying session and I didn't like it much," said Negri. "Because of the short time between the practice session and qualifying, we couldn't do anything to change it. The car wasn't terrible, but it didn't do what I needed it to do for what I wanted. The team was telling me to go just two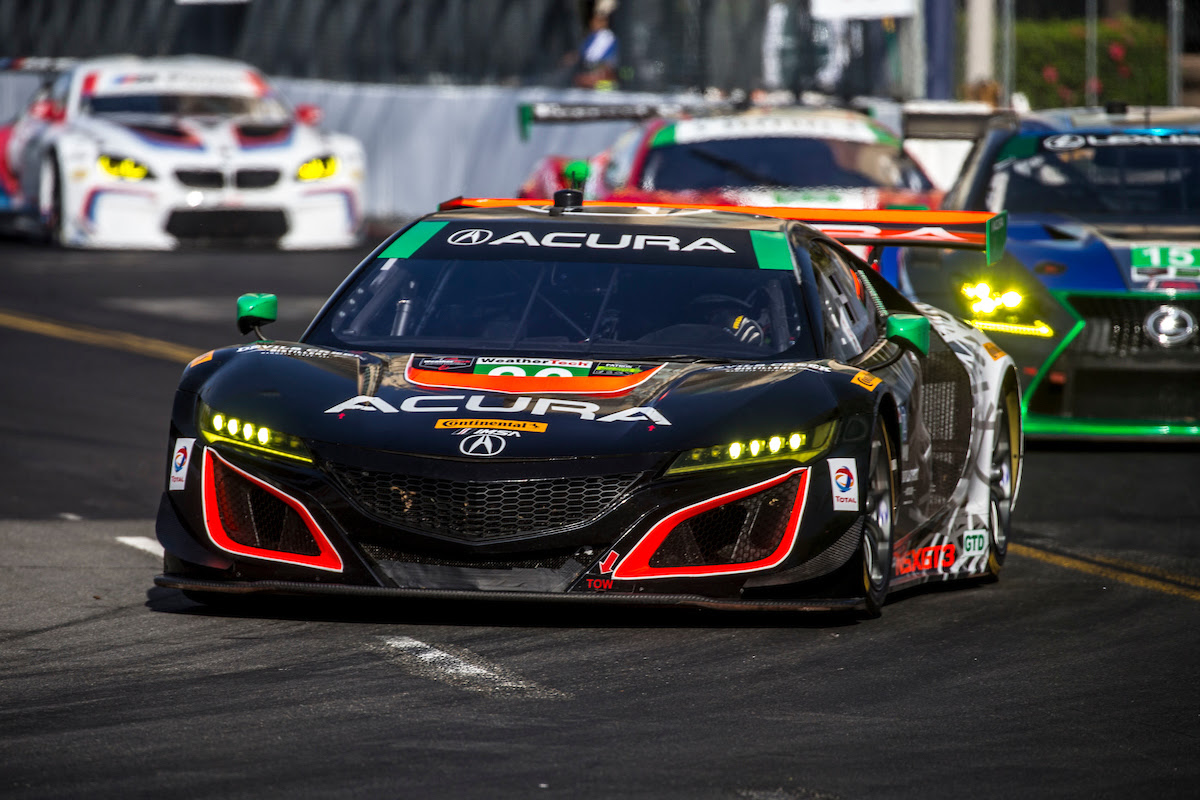 tenths quicker, but I couldn't get those extra two tenths without putting it in the wall. We'll regroup and get after it tomorrow."
Since the debut of the Acura NSX GT3 at Daytona, Michael Shank Racing has made steady progress with the new platform and Team Owner Mike Shank is pleased with the team's efforts.
"We're still not where we need to be, but the car is getting better every time we go out and that's all we can ask," said Shank. "Andy (Lally) had a little issue there and he hated it, but the boys got it totally back together in time to qualify. Katherine (Legge) did an amazing job considering that we sort of took our thumb to set the toe bars. I'm pleased. We still don't have the speed that we need – Ozz (Negri) needed a little more there – but I think we'll be in a decent position in the race tomorrow. We'll do some strategy. The cars are good – definitely better than Sebring, so we keep moving in the right direction and that's all we can do."
The BUBBA Burger Sports Car Grand Prix goes green at 1:10 PM local time (4:10 PM ET) with LIVE coverage on FOX beginning at 4:00 PM ET. Follow @MichaelShankRac on Twitter for updates throughout the race.