Remarkable Acura NSX debut with top-five finish for No. 86 Acura NSX GT3
Daytona Beach, Fla. (29 January 2017) – Michael Shank Racing delivered an impressive performance in the Rolex 24 At Daytona as the team debuted its brand new Acura NSX GT3 machines at Daytona International Speedway over the weekend. Both cars led laps in a race that saw long periods of rain and cold temperatures which made track conditions challenging throughout much of the 24-hour endurance classic.
The No. 86 Acura NSX GT3 of Jeff Segal, Ozz Negri, Tom Dyer, and Ryan Hunter-Reay took a fifth place finish after 634 laps of racing in the car's debut. The No. 93 Acura NSX GT3 driven by Andy Lally, Katherine Legge, Mark Wilkins, and Graham Rahal looked poised for a podium finish in the final stages of the 24-hour race, only to suffer a setback in the final 20 minutes that kept the car from taking the checkered flag on track.
The No. 93 was credited with an 11th place result.
The Tequila Patron North American Endurance Cup is a championship within a championship with rounds held at each of the four endurance events on the IMSA calendar (Daytona, Sebring, Watkins Glen, and Petit Le Mans).
Points are distributed based on track position during designated segments of each race. For the Rolex 24 At Daytona, points are allocated at the six, 12-hour, 18-hour and 24-hour marks. Michael Shank Racing's consistently strong performance through the wide range of weather conditions saw the team emerge from the opening round of the championship with a victory in its first GTD class start.
Perfect pit stops by the Michael Shank Racing crew members on each car saw both Acura NSX GT3s gain track position and move up the order as the team lead laps and ran among the top five through most of the race.
"This program has not been in Michael Shank Racing's hands – working with HPD on this new NSX program – for very long," said Team Manager, Tim Keene, who serves as strategist on the No. 86. "I couldn't be more proud – it wasn't a race win, but it felt like it. I'm so proud of everyone and how hard they worked to get here. If people could see all the work that went into this, they wouldn't believe it. These Michael Shank Racing guys have been busting their butts and it's incredible. To finish seven seconds off the lead in your very first race – and a 24 hour race no less – it just blows me away. I'm just so proud of these guys."
Contact with a prototype around 6 am eventually caused a vibration that contributed to the hood of the No. 93 Acura NSX GT3 coming loose with less than an hour remaining. Without the hood, the airflow was disrupted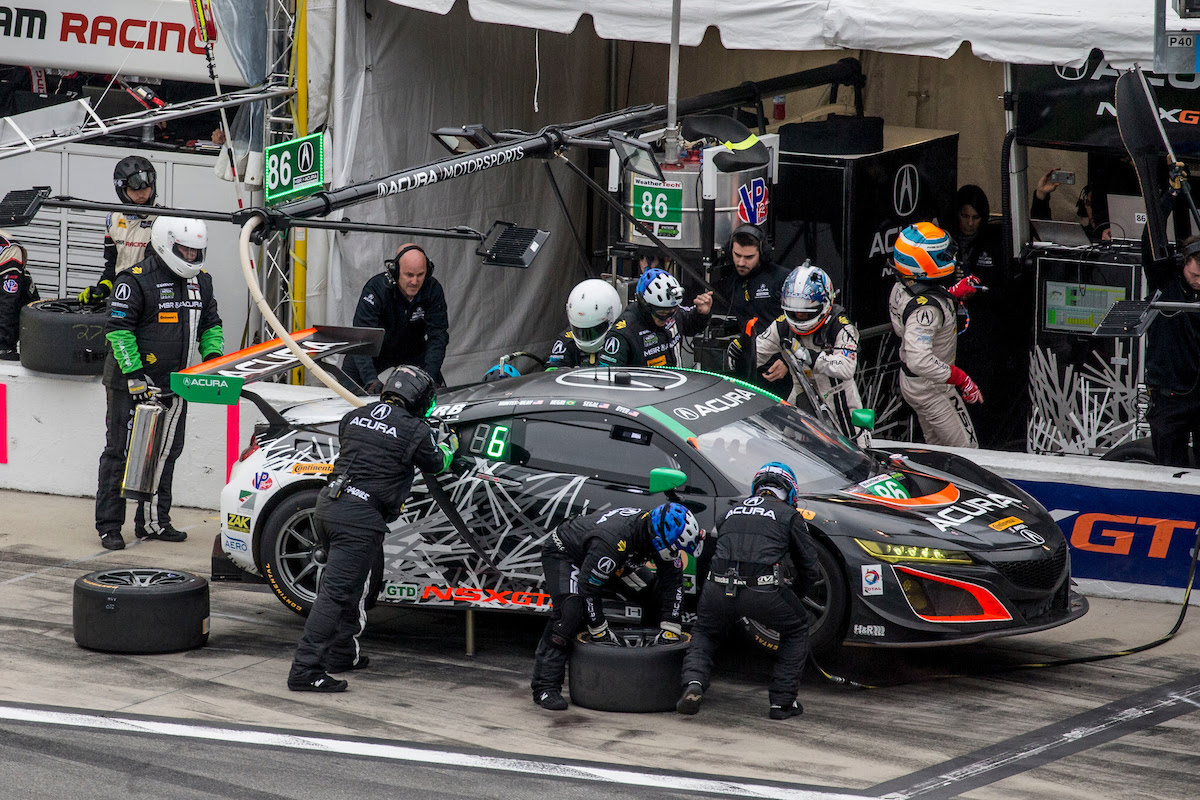 which resulted in an overheated gearbox, forcing the car to take to pit lane in the closing moments of the event.
Despite that late race issue, the Michael Shank Racing team executed when it needed to and team owner Mike Shank was pleased with his organization's efforts.
"The key to this result was constantly digging and never stopping – with a plan," said Shank, who called strategy for the No. 93 Acura NSX GT3. "Having a plan helped us a lot here. We talked a lot about the things that could happen in this race and we were ready for them.
"I'm so pleased to execute on those plans and be able to have this kind of debut for the NSX. On top of that, all of our guys on the pit lane were just awesome. Every time we went into the pit box, we came out in better position than we were when we went in. I'm thankful, but I'm disappointed because both of our cars should have been in the top-five with no problem. But all in all it was just a great debut and I couldn't be happier for the team, Acura, and HPD. This feels very good and we're looking forward to a great year ahead."
Michael Shank Racing will look to extend its lead in the Tequila Patron North American Endurance Cup championship when the IMSA WeatherTech SportsCar Championship travels to Sebring International Raceway in March for the Mobil 1 Twelve Hours of Sebring.
DRIVER QUOTES:
Jeff Segal, No. 86 Acura NSX GT3: "We were all a little bit apprehensive about our first race. This car has never raced before and there were so many new challenges that might lay ahead of us. Finishing the race was a huge target so to finish fifth and having led a lot of the race in the rain was really incredible. I have to admit that I'm a little disappointed because once we had led so much, I wanted to win! But it is really great work by this group. It is truly incredible. A lot of hard work by everyone at Acura, HPD and Michael Shank Racing. Some endless months and weeks were spent working on this car and it paid off."
Ozz Negri, No. 86 Acura NSX GT3: "The car led a bunch of laps and we were in the hunt since the green flag and it shows how strong my Michael Shank Racing team is. All of these people here from Honda, Acura, and all of my teammates put in a top class drive that was pretty strong. I am so proud. It's the first time I am working with my new engineer Ryan McCarthy and we are gelling and working together with all of my mechanics. I told a bunch of people before the race that I am the most optimistic guy and that's why I come to the race track and get podiums. I am very proud of Acura and Michael Shank Racing. Just to finish a long race like this for the first time out with a new car is great but a top-five is terrific."
Tom Dyer, No. 86 Acura NSX GT3: "My first Rolex 24 was great, it was everything I hoped it would be. It was definitely a team effort, everybody did their part. I think we ran really well and actually overachieved and exceeded expectations coming into this thing. I know everyone is happy that first of all we made it and then on top of that we achieved a top-five finish. It's a tough break for the No. 93, we wish we could have been there together at the end but we have Sebring coming up next and we will need to one-up ourselves and finish even better with both cars. Driving at night in the rain was pretty dicey. But everyone else was dealing with it too, so it is what it is and everyone has to deal with it so you just do the best you can and try to manage the situation to the best of your abilities and take care of everything. I enjoyed it a lot, I like driving in the rain so it was a good opportunity and a good time."
Ryan Hunter-Reay, No. 86 Acura NSX GT3: "It was fantastic from start to finish. The car was there and it was reliable and predictable especially in the rain. I was just blown away by how poised the car was and it allowed me to get away with a lot, it was very forgiving. I'm very pleased with the NSX debut, and I am blown away by everyone at HPD and Michael Shank Racing that could do this in such a short amount of time. It is an amazing feat and a win within itself. These guys should be very proud. They have a bright future ahead of them."
Andy Lally, No. 93 Acura NSX GT3: "It literally just shucked the hood off at 175 mph, and that was a moment! The Michael Shank Racing guys tried to fix it and we had a no "give up" mentality because you never know what can happen here. The hood took a couple of wires with it which shut off the dash. I kept it off the wall but it ended our day. It's hard to run against so many of the world's top manufacturers, who have been doing it for years – I've said it 20 times this weekend: we overachieved here. Congratulations to the whole team and to the No. 86 guys for a top-five finish today."
Katherine Legge, No. 93 Acura NSX GT3: "It was an amazing debut until about 45 minutes to go and that's just gutting. Everyone on the team did a phenomenal job so to have a retirement is tough to take. It's pretty amazing in the end: I'm incredibly proud of the whole Michael Shank Racing team and just very gutted for them that we couldn't take the checkered flag. Thanks to everyone at Mike Shank Racing, HPD, Acura, RealTime and of course, my teammates. There's always next year and now we turn the page to Sebring."
Mark Wilkins, No. 93 Acura NSX GT3: "I can't say enough about Acura and the effort with the new NSX GT3. It's a fantastic car to drive. We really showed the capability of the car right away in its worldwide debut. We ran up front for much of the race and we battled some crazy conditions. It was crazy at night in the wet, in treacherous conditions. There were a lot of opportunities for big mistakes and I'm bummed that we had a car get into us that ultimately affected our result in the end. But with conditions the way they were, it's hard to avoid everything. We just needed an extra 25 minutes at the end. It's always tough to get to the end and have a result like this, since expectations are high. But the car performed really well for us and the crew worked really hard to get us here. I'm looking forward to Sebring and racing with the Michael Shank Racing guys again."
Graham Rahal, No. 93 Acura NSX GT3: "I'm really pleased with the performance of the car – everybody did a great job and we made it a long way even though it was about 17 minutes too short. This Michael Shank Racing team has done a tremendous job, as has Acura. They've done a great job with the NSX GT3 and obviously HPD. I was very proud to be a part of this effort. I hope to be back in the future. This was a very good debut for us and the (second Michael Shank Racing car) 86 had a great finish today so it was really a great debut all around for Michael Shank Racing and the Acura NSX program."